2013 was the first time England had hosted the European 24hr Championship. The venue was the Wasing Estate near Aldermaston, somewhere with which I was already familiar from various National and Southern region XC races over the last few years. 137 riders from 9 countries made their way there last weekend to contest the event .
Arriving on the Friday afternoon I found
Rob Bradley
and Jon Kenyon and pitched camp with them at the far end of the pit lane, Mike Powell arriving a little time later. A practice lap showed that, although there were some new sections of track, it was much as we were expecting, undulating but with no significant climbs, twisty but with very few technically difficult sections. If it remained dry it would be a very fast race. The lap was very short too, which would make it much easier to keep an eye on one's rivals.
Vast quantities of food and drink were set out in the pits, lots of
Bikefood
.
I had three bikes prepared, the Yeti FS for dry weather, the Pronghorn HT for wet weather and a Pronghorn singlespeed as a backup. The batteries for the lights were charged. Spare tyres for different conditions were all lined up. All that was left was to get a good night's sleep.
Most of the Saturday morning was spent eating, and chatting nervously to various other competitors, the build up to a 24 is usually far worse than the race itself. I did still have one last thing to do, I was going to run a helmet light as a backup to my main light. Rather than attach it at nightfall it would be far quicker to have it attached to a spare helmet and just swap helmets when the time came. I went to attach my light and noticed that the top of the helmet had a fairly significant chunk detached from the main body. How had I managed to hit my head hard enough to do that sort of damage and not notice? Maybe my skull is tougher than it looks!


The race began at noon. The top five in each category were given a little special treatment at the signing on and gridded at the front. For some bizarre reason I had been seeded at number 5 and I found myself starting on the front row, reigning European Champion Huw Thomas to my left, world championship silver medallist
Jason Miles
to my right and Portuguese Champion Rudolfo Dias right behind me. I was starting to feel a little out of my depth…
The start of the race was a rolling start, the pace high right from the off. Hungarian rider Gabor Doroghazi stormed into an early lead, opening up a significant gap over Englishman
Craig Bowles
, the bronze medallist at
last year's World Championship
. It's a long race, no need to chase him yet, remember the old tale, let the Hare tire himself out.
I took it steady in the opening few laps, pacing myself nicely for the first few hours, eating little and often, and drinking plenty of
Bikefood.
My target for the race was to finish in the top 10, and I spent much of the early part running in about 8th or 9th place, bang on target.
At about 7pm I was passed by Thomas. I decided to see how long I could stick with him, copying his lines and seeing if I could learn anything from the Champ. I stuck with him for about half a lap, gradually realising that he was getting a lot of stuff wrong, braking too late for corners, missing gear changes. When he took the longer, slower route around one obstacle, I took the shorter but trickier route, got ahead and left him behind, that wasn't expected! He was having a rubbish day and wouldn't make it to the end of the race, the most high profile retirement of the day. 24hrs are no respecter of pedigree. His team-mate and last year's bronze medal winner, Gareth Hayes, had been forced out by mechanical failure about 6hrs into his race.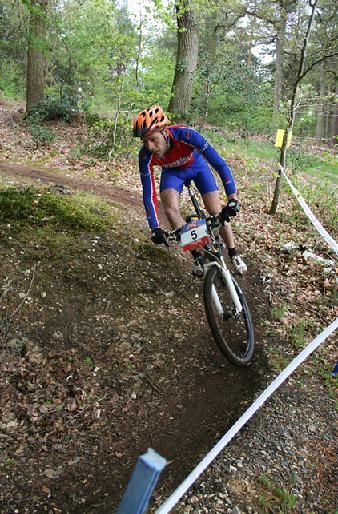 Thanks to the Southern XC guys for the photograph
Rain in the week prior to the race had left the course damp, but fast rolling. By the eight hour mark it was becoming a lot of fun. I arrived in the pits at almost exactly 8pm, a slight bit of drizzle in the air but with huge black clouds approaching rapidly, borne by the very, very strong winds. By the time I had finished my rice pudding the rain and hail were lashing down so hard that we could barely see out of the pit garage, and couldn't hear ourselves shout inside it. You know the kind of rain, the sort which would have had Mr and Mrs Noah wrapping up warm and heading out to round up pairs of livestock.
I took the decision to bring my long, five minute, stop forward by about an hour. I took the opportunity to take on more food and strapped the light to the wet-weather bike. I grabbed a waterproof top and a thick pair of gloves and headed out. Mike arrived back into pits just as I was leaving. He had been going very well until that point, and was over a lap ahead of me. However, the cold had got to him, he looked awful, properly cold, almost blue and shivering uncontrollably. He didn't make it passed 10hrs.
Our Hare, Doroghazi, was also suffering by this stage,
Craig
was beginning to hunt him down and was himself opening a gap over Martin Smith. Two laps later the rain had finally stopped, I changed into some dry clothes and, fuelled by some very welcome hot rice pudding, headed back out into the night. My feeding strategy caused a little amusement in the pits. I had my usual
Bikefood
gels, along with plenty of mars bars and bananas, pies and rice puddings. It was however, the large block of stilton and even larger tiramisu which were causing the mickey to be taken. My logic was that I would need something which would still look appetising at 3 in the morning and the eighth Mars Bar of the day is never as nice as the first.
Shortly after the rain had ceased I was rather surprised to see Jon fly passed me somewhere out at the back of the course, I don't know where that came from. I think he was going so fast that he didn't even recognise me, he just disappeared off into the distance. I saw him again at the end of the following lap, sitting in a chair in the pits looking like death. By 1am he was out of the race, and at about the same time the Hare did as Hares do, and he too was out, it was turning into a real battle of attrition.
The course was starting to suffer as much as the riders, the rain had made it treacherous and it was getting horribly chewed up. I kept plugging away through the night. The temperature remained relatively mild, not enough to dry it out though. I checked my progress at 4am and discovered that I was lying in 8th place, still on target for a top 10 position so I was quite happy with that.
The sun began to reappear at about 4:30am, it is always a massive relief to see it again, the hardest part of the race is done, less than 8hrs to go and I was still feeling fine. I began to assess the quantity of my poultry way before they had showed any sign of emerging from their integuments. This may have been a little premature.
By 5am I was dead on my feet. I had slowed right down, keeping awake was a real effort, never mind moving forward. I really felt like I was just about to keel over and pass out in a bush somewhere. There have of course been precedents for this (mentioning no names, to save causing any embarrassment to
Mr Corbyn
)
This sorry state of affairs continued for some time. By 6am I had no idea what was going on, I wasn't entirely sure who I was, much less who the people around me were. I couldn't have told you which county I was in, never mind whereabouts on the racetrack I was. Everyone has a rubbish hour or two, the trick is to just keep plodding and survive until I am feeling better and can pick the pace up again. It didn't quite work
last year
and I had 15 consecutive rubbish hours!
I did however, have some company for this part of the race, the Sleep Monsters had arrived. Sleep depravation can do weird things to the brain and I was starting to hallucinate. I was seeing a lot of very small grey squirrels. They were quite cute, and sufficiently realistic that it took me a while to realise that they were not actually there. I also saw a small brown and white terrier of some sort, and then a tortoise. I saw the same tortoise several times, just sitting by the side of the track looking at me. He could obviously move faster than me as he kept getting ahead of me and then waiting for me to catch up.
As an aside, I was talking to Matt Carr, commentator extraordinaire, after the race about hallucinations. At last year's event I had seen a gorilla playing the drums in the forest (real), a plague of frogs (real) and some snow (which everyone had told me was not real) He was the first person I have found who would corroborate my tales of a snowy hillside. At last! I knew I wasn't imagining that. He had, however, not seen any tortoises…
By 7am I had perked up again and was starting to put in some sensible lap times. I checked the positions, after two hours of going so slowly I must have lost a huge amount of places. I was now in 7th. How badly was everyone else doing!? I pushed on, a couple of relatively quick laps from 8am saw me consolidate my position.
I carry a spare tube and a pair of tyre levers on my stem, attached with the rather handy
Mt Zoom
strap thingy. This is a very simple but brilliant piece of kit and so much easier to remove said tube from than the usual duct-tape/zip-tie/old toe-strap arrangement when one's hands are completely devoid of sensation in the cold and wet. Anyway, at about 10am I realised that I could see my stem, my tube and levers had gone. This was annoying, no
Mt Zoom
product had ever let me down before. Although not causing an issue it does play a little on one's mind, taking things a little easier than normal, making an effort to avoid a pinch flat. There was a scrabble in the pits to find me another set of tyre levers for the last lap (thanks Mike) Later on, while washing the bikes down I found the tube and tyre levers, complete with strap, still firmly attached to the stem on the Yeti. I had been riding without them for 14 hours before I even noticed! It's hardly like the stem is out of sight either... Not product failure, just brain failure. Fortunately no punctures so no harm done. Actually, I didn't see anyone with one all weekend.
I was physically drained for the final lap but mentally much better and could appreciate the cheering from the spectators as I rode into the arena to complete the race, even if merely lifting my arm to wave was a real effort. I was still 7th, my best ever result at an international race. I would be pleased with that at the best of times, never mind on a track and in conditions which usually don't suit me at all well. This bodes well for the World Championships in October, Mt Stromlo is more my kind of track and the Aussie weather promises to be much more favourable, a top 10 there is looking like a real possibility.
I would like to say thank-you to a very large number of people, far too many to mention but you know who you all are. Special mention will go to
Mt Zoom
and
Bikefood
obviously, Mike from
Racemechanic
for an impressively quick turnaround getting my forks fixed after Whinlatter and ready for this weekend, the huge support in the arena from Carole, Simon, Paul, Team Bowles and many others, great to see you all again, but mostly to the guys in the pits, Tom and Mr K. Us riders have the easy part, we just ride our bikes. They have the hard work to do, organising, planning, cooking, mending, motivating and generally keeping us and our bikes moving. Not an easy job, I really couldn't do it without you guys.

So, there was an Englishman, an Irishman and a Scotsman in a race...
The race was won with a very impressive ride by
Craig Bowles
,
the first time we've had an English victory at this event, to add a UK and European title to his World Championship bronze medal. He is pictured with
Michael McCutcheon
and Martin Smith.
Polish rider Iwona Szmyd took a closely fought win in the women's race ahead of defending champion
Rachel Sokal
and newcomer
Kathy Beresford
.